Since 2006, AIIT been providing high-quality, low-cost training, internship for Government, career counselling, Job Support and CV writing services. 
More than 270 companies have hired at least one of our graduates and still remain as our long-term partners. This includes Government sector.
Proven Track records. Our team of highly qualified have years of experience in delivering high-quality training  to help achieve your goals.
We provides Software testing articles (17,000+), Ebooks (1,500+), Software Testing Tools (4,000+), ISTQB certification study material (1,000+) and etc
Softwaretesters.net is biggest software tester community and resources farm in Asia area with 120,000 members from 150 countries.
Introduction
Since 2006, AIIT has been providing Tester Job Ready Program and Software testing education including high-quality, low-cost training, career counselling and CV writing services in Asia-Pacific Area. We have worked with hundreds of businesses, trained thousands of students, and we are ready to prepare you.
Delivering extraordinary training and recruitment services to Individuals, New Zealand and New Zealand Government using state of the art facilities, highly qualified instructors and recruitment experts.
Our team of highly qualified, ISTQB certified instructors have years of experience in delivering high-quality training by imparting the skills and knowledge required to help achieve your goals. Our IT training and certification course centres are equipped with state of the art equipment to give you the technical skills to succeed.
Have a team to train? Let us know, and we can tailor a course to suit your requirements and deliver it at your premises. We offer a diverse range of courses from ISTQB
Within our Job Guarantee Plan of Job Ready Program, our highly skilled recruitment team will work hand-in-hand with you and won't give up until we get you a job. In Internship Plan and Job Interview plan of Job Ready Program, our team works with the candidates to offer skill sets, career guidance and career advice.
AIIT is working with New Zealand IT entities to provide a software tester related service to governments and non-government projects.
AIIT has built its reputation on a commitment to providing quality Job Ready Program and services while rapidly responding to New Zealand and International needs for innovative and accurate Software testing tools. A primary strategy is superior clients and participants satisfaction.
AIIT constantly analyzes market needs around the world to develop a full range of software tester related Job Ready Program and Training. Until now, There are around 2,000 participants has successfully finished our program.
ISTQB Accredited Training Provider
AIIT is ISTQB Accredited Training Provider by ANZTB (http://www.anztb.org/trainingproviders.php) and VTB (https://www.istqb.org/istqb-where-you-are/find-a-training-provider.html). 
AIIT is providing  software testing courses by experienced trainer who gained extensive software testing, quality assurance and project management knowledge and skills. With these courses we train professional software test analysts who can fully participate in IT. The software training courses of AIIT provide students with certificates necessary to work as a professional software test analyst in the IT market. Students who have followed these courses will find it easy to obtain a job as a qualified software tester in the IT industry.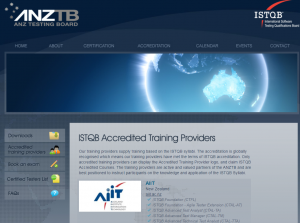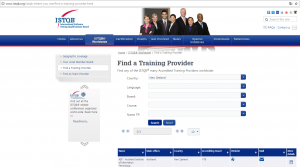 History
2018 :

 
Achieved ANZTB Cross Accreditation
Specialist Courses open
Developed Live Instructor Led Course System 
Reached 2.000 Participants

2017 :


Accredited ISTQB Advanced Level Security Tester
AIIT New Zealand Branch Established
Reached 120,000 Community Member
Partnership reached 200 Companies

2016 :


Accredited ISTQB Advanced Level Test Automation Engineer 
Developed ISTQB Foundation Online Course
Reached 100,000 Community Member

2015 :


Accredited ISTQB Foundation Agile Extension 
Reached 30,000 resources of articles, ebooks and study materials
Reached 1,500 Participants, 

2014 :


Adopt Education ERP System
Developed ISTQB Foundation Online Course 

2013


New Zealand Campus Open
Adopted Software Testing Tool Student Practice System

2012 :


Reached 20,000 resources of articles, ebooks and study materials
Reached 1,000 Participants
Partnership reached 100 companies

2011 :

 
Japan Campus Established
Reached 50,000 Community Member
Accredited ISTQB Advanced Level Technical Test Analyst, 

2010 :


Accredited ISTQB Advanced Level Test Analyst,  
China Campus Open
Reached 10,000 resources of articles, ebooks and study materials

2009 :

 
Accredited ISTQB Advanced Level Test Manager,
Reached 500 Participants, 
Partnership reached 50 companies

2008 :


Korea Campus Open
AIIT Korea Branch Established
Reached 10,000 Community Member 
Reached 5,000 resources of articles, ebooks and study materials

2007 :


Accredited ISTQB Foundation
Vietnam Campus Open
AIIT Vietnam Branch Established 

2006 :


AIIT Headquarter Established